Your digital, Swiss army knife!
UNOY has everything you need to create and manage KAPPS to make expertise digitally available.
No code and IT support needed!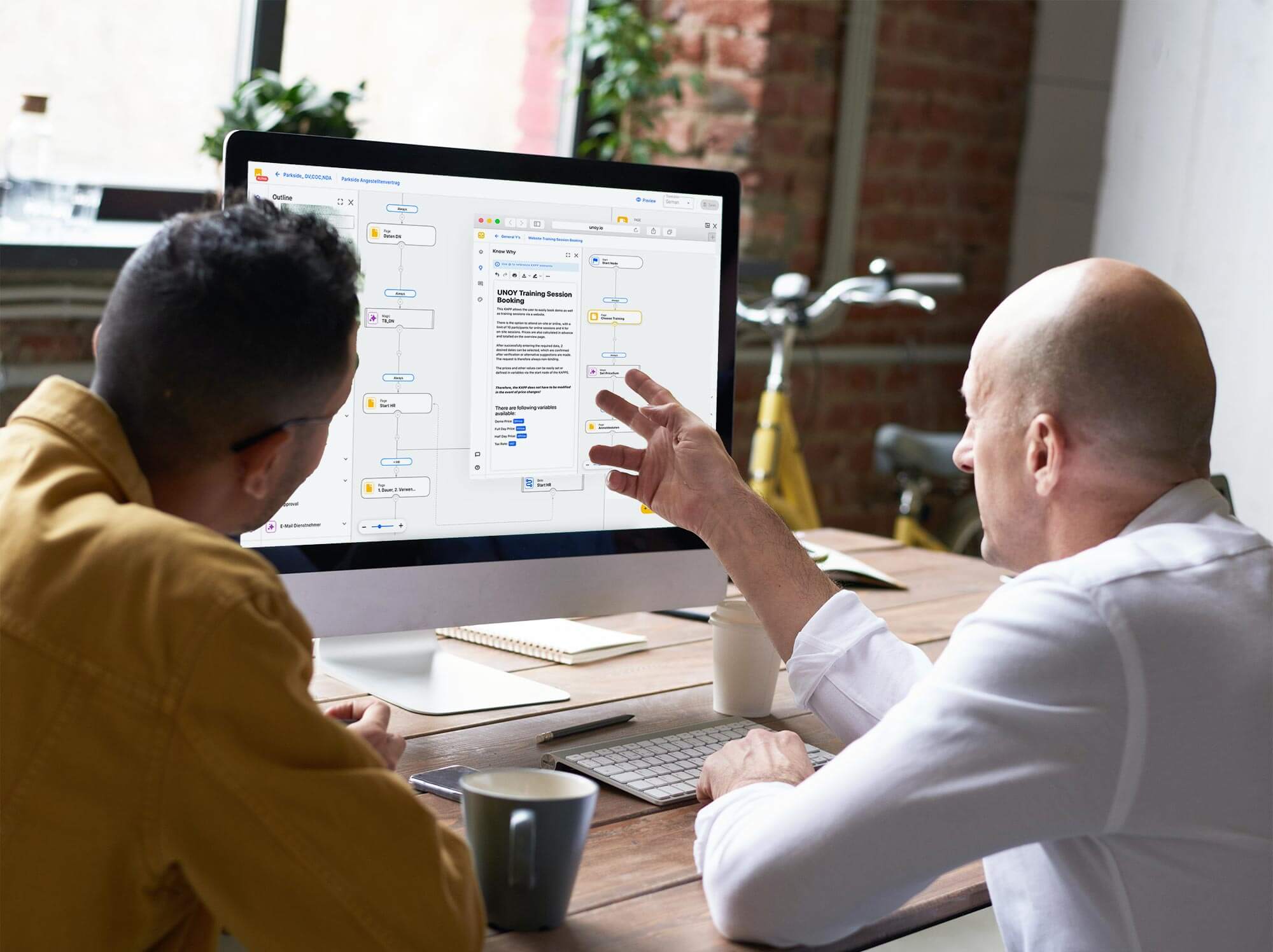 Let us give you a quick tour of UNOY and it's functionality.
With KAPPS cognitive processes are automated
KAPPS interact with people in conversational way or do the work independently.
The application of KAPPS supports organisations in several ways, including automation of decisions, advice, information, collect data, redundant activities, digitising processes, and combining different data sets to gain rapid insights and knowledge that contribute to decision making and the right advice. In addition, KAPPS enable scalability of knowledge in an otherwise relatively inflexible traditional business environments.
The all in one platform
Uniting design, code and deployment, the UNOY no-code platform radically simplifies development and management of cognitive Knowledge Apps.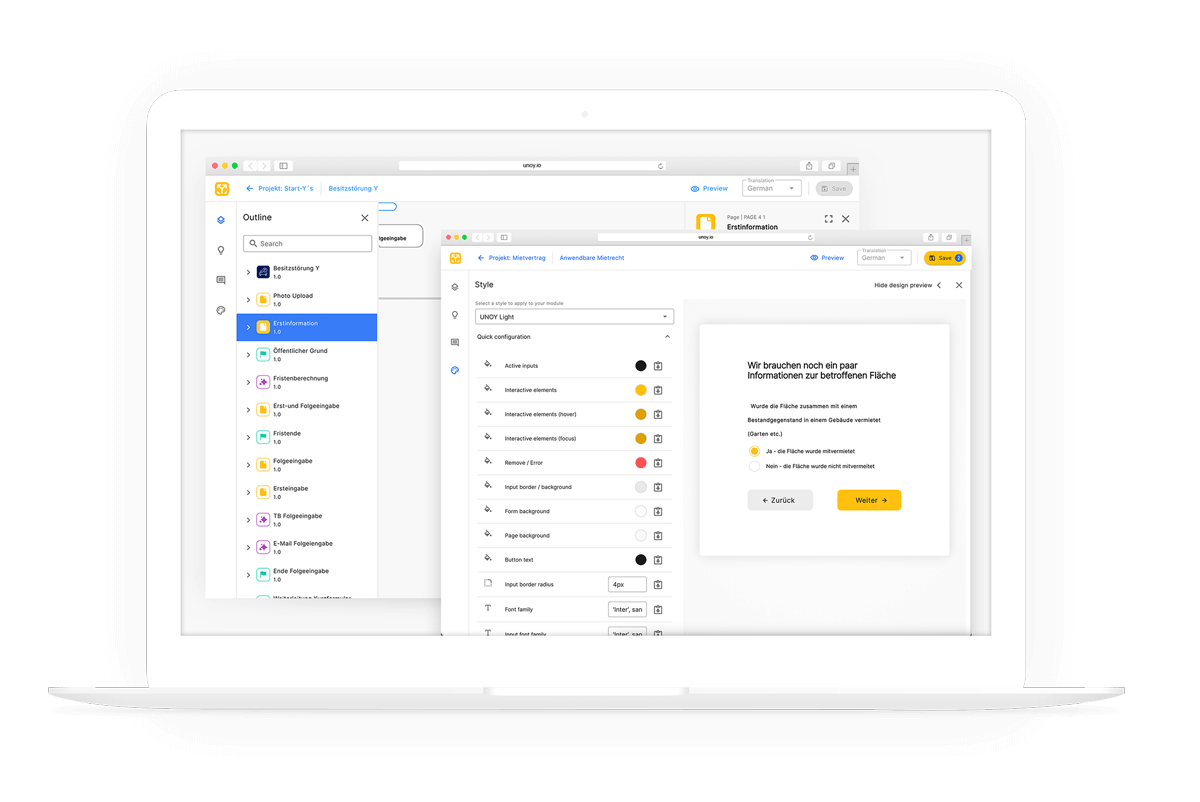 Anyone can create KAPPS
Anyone can create KAPPS without writing a line of code. But UNOY is different to other no-code platforms. It was especially designed for No-Code developers, business developers, legal engineers, med engineers, short all kind of knowledge developers to meet their needs.
Especially for knowledge workers its important to trust the results automatically delivered by KAPPS.
To meet these requirements we developed a method that makes it easy for developers to document the expertise used in the usual way and to connect it with the decision tree in the UNOY-Designer.
Start simple, scale to sophistication
Level KAPPS
Conditional forms, checklists and frontends with basic business logic and basic workflows and integrations.
View KAPPS
Level KAPPS
Advanced application with complex conditional expertise combined with advanced workflows and integrations.
View KAPPS
Level KAPPS
AI (ML) combined with with complex conditional expertise powered application with advanced workflows and integration
View KAPPS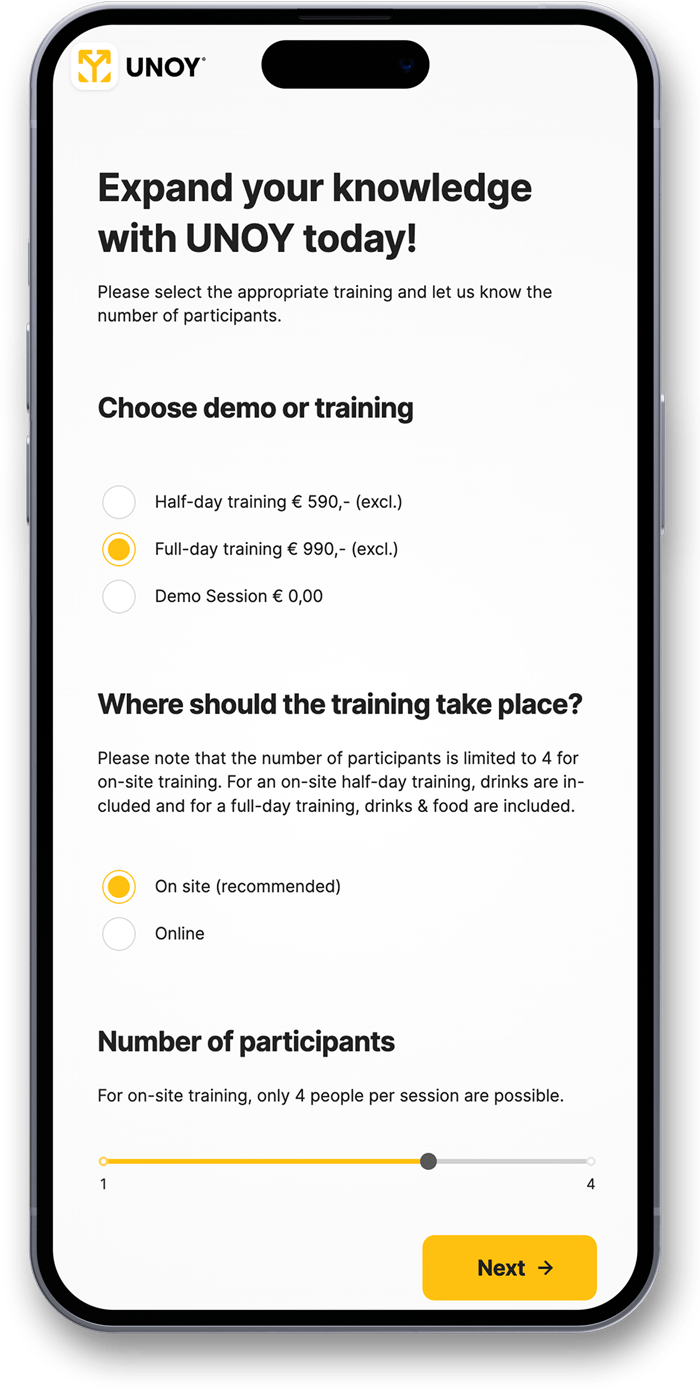 Because you always know "WHY" a KAPP delivers a specific result. The creators or users always know based on which norm, rule or law that was in force at a certain point in time, a KAPP made a decision, gave advice or information. That makes UNOY so special an the perfect tool for you!
As much (or as little) help as you want.
No time to build? Hire an UNOY-expert!
Choose our UNOY experts which help you think through and create your KAPP. Our experts customize pre-built KAPPS, apply your designs or build your KAPPS from scratch for you.
Book an on side or online workshop!
Visit our stylish Y-Station and let our experts show you how to create KAPPS or arrange an online session.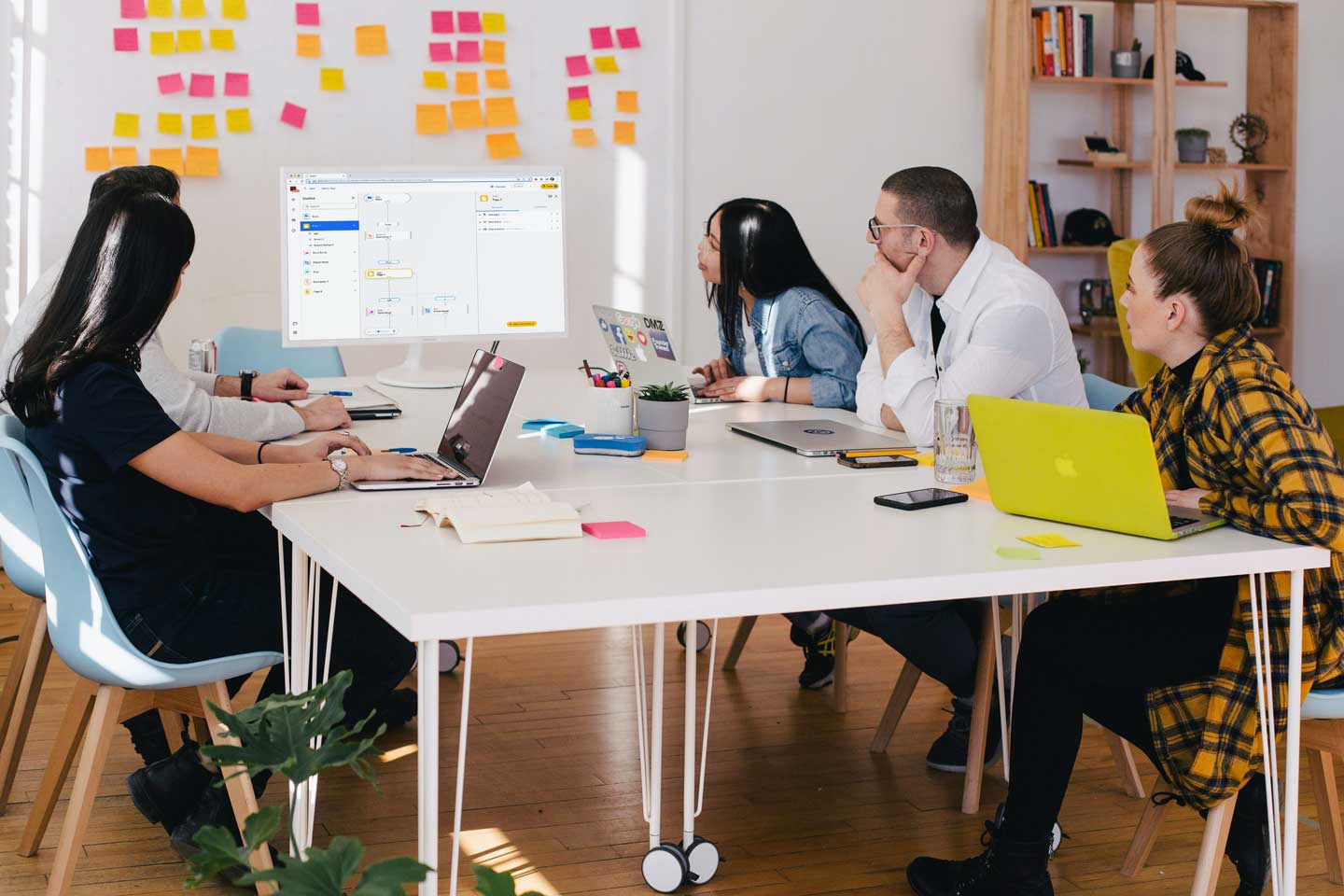 By 2025, 70% of new applications developed by enterprises will use low-code or no-code technologies, up from less than 25% in 2020.
— Gartner, Magic Quadrant for Enterprise Low-Code Application Platforms
Book a demo today!
In the UNOY platform demo you …
Get a demo customised to your business case
Discover the limitless possibilities of UNOY
Learn how to build advanced applications yourself
Ask all your burning questions
Your personal benefits
After the demo you …
Understand how to prove results by starting small
Have taken the first steps to establish an effective citizen development strategy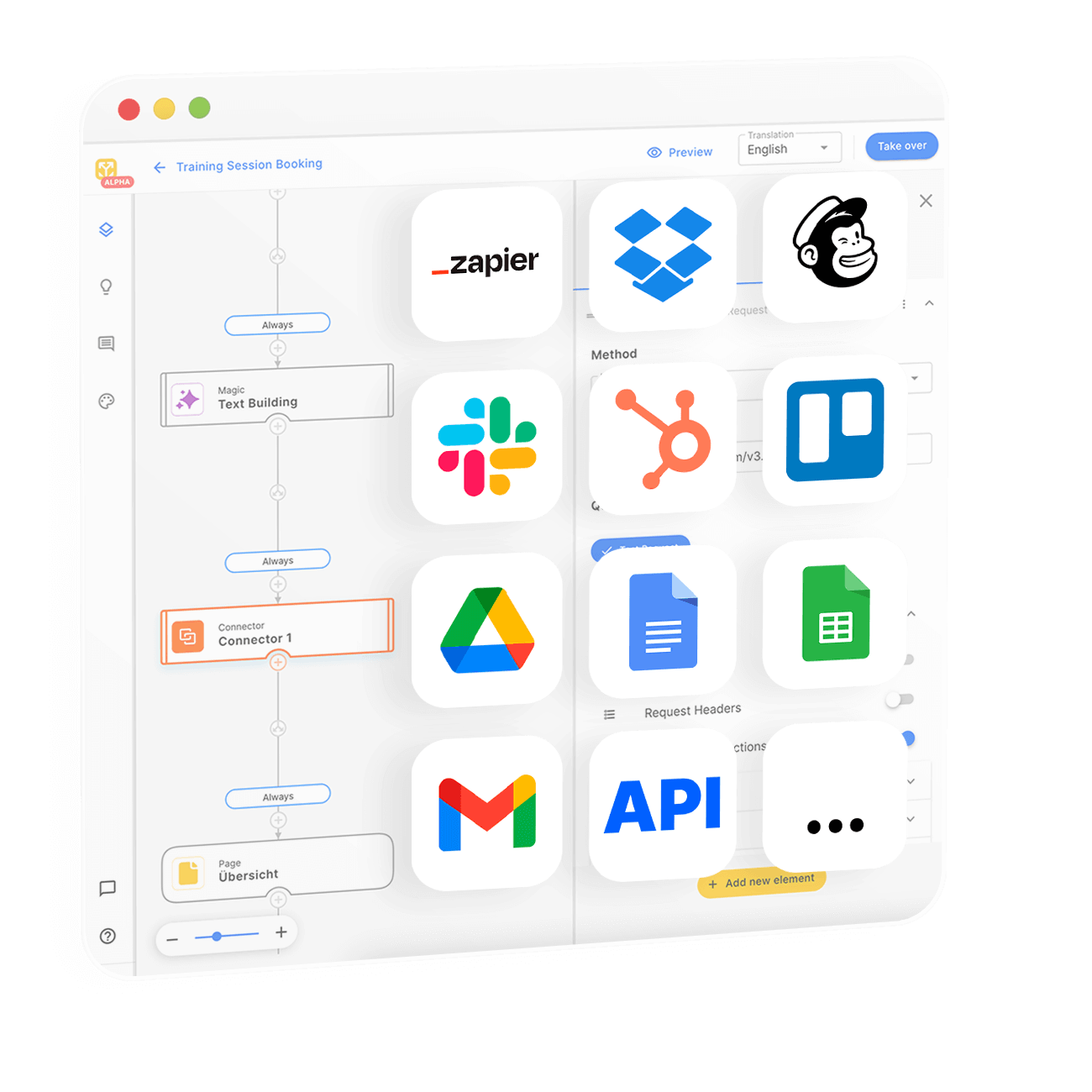 All UNOY features at a glance
Intuitive user interface to get started immediately
A simple publish process to quickly integrate KAPPS
Simple modular system to automate processes and tasks